IPTV Subscription
Click here to get your IPTV subscription.
IBO PLAYER is one of the best Smart TV IPTV apps currently available in the market and is considered to be the perfect alternative for those who are using the Duplex Play app which is no longer available from Samsung or LG stores. Thus, it is no longer possible to use the device to continue using it.
The IBO PLAYER app does not provide a list of channels or VOD content, so you will need to provide a link to a list of channels and VOD content.
Features of the IBO Player app
IBO Player is among the best streaming players that offers you an easy way to watch channels from your IPTV service provider and could be installed on all your Smart TV, Android devices (TV, Box, Fire Stick, …) or even Apple TV.
Here is a list of the main features of IBO PLAYER:
Powerful VLC-based player for fast streaming.
Different themes to personalize your application.
Easy access and simple and intuitive interface.
Support information and posters in movies and series.
Support for language selection in movies and series.
Supports language selection of subtitles in movies and series.
Support two configuration methods with m3u link as well Xtream codes.
Supports several playlists with the possibility of protecting them by pin code.
IPTV subscription configuration on IBO PLAYER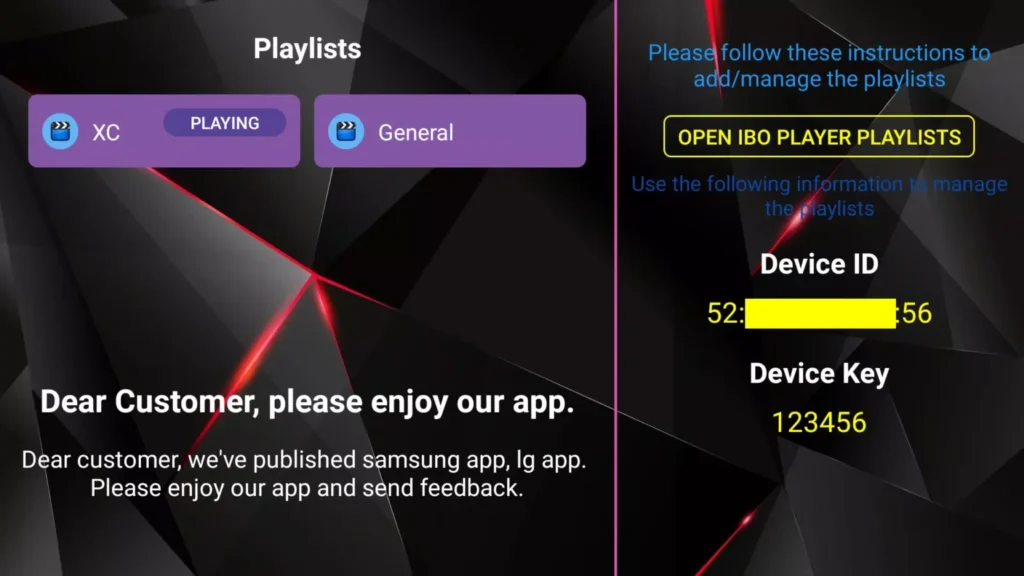 Here are the steps to follow to integrate your playlist or IPTV subscription on the IBO PLAYER application:
1 – Once the application is installed, launch it to get its mac address and Key.
2 – Click on this link to go to the application site: https://iboplayer.com/device/login
3 – Enter the information displayed on your TV in the fields requested (mac and Key) to connect to your application.
4 – Once connected, you have two configuration methods, either with m3u link (+Add Playlist) or with Xtream codes details (+Add XC Playlist).
5 – As a last step, all that remains is to return to your television and relaunch the application so that it loads and displays the list with the name given on its site.
IBO PLAYER app activation
IBO Player offers its new users a 7-day trial period like FLIX IPTV, SET IPTV, SMART STB and other apps. If you like the application and want to continue using it, go to its website and buy a license for 8 € to be paid once.
To activate your device, click on "Activate Device" and complete the form to pay.
Our opinion and final word
If you have a Smart TV, IBO PLAYER is a great way to enjoy your favorite TV shows and movies. It is powerful and stable, and has a large playlist of popular IPTV channels. For Android and iOS devices, you have other options to consider.
IPTV Subscription